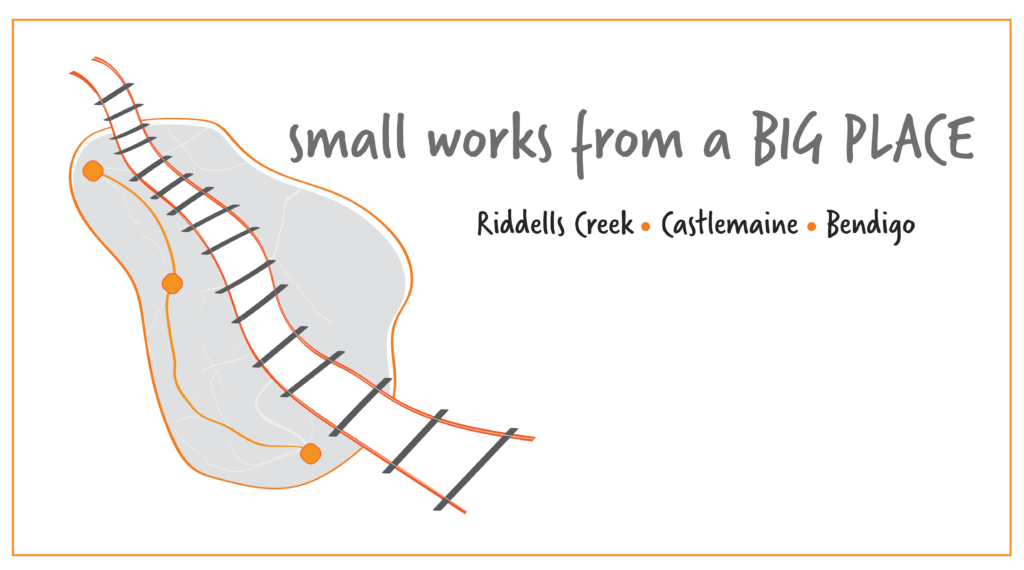 This exhibition is now complete, read below to find out more:
A travelling feast of miniature art works from a collective of Central Victorian Artists
Small art works, curated and presented to a high standard, 'popped up' at different destinations along the historical railway line from Melbourne to Bendigo. This group show was created to take art to the people, allowing broad public interaction with local art and arts practice.

A group show with a BIGGER purpose
Artists were selected according to curatorial policy, developed via community consultation, with the aim of building a professional arts marketing cooperative. This model allowed local artists to leverage individual effort into collective group initiatives, sharing resources for exhibition, presentation, marketing, communications, and distribution of their work.
Taking art to community
Presented in a purpose-built modular mobile facility, art works were exhibited in multiple locations during 2018 and 2019. This included in three regional transport hubs: Riddles Creek, Castlemaine & Bendigo V/Line Stations, the Bendigo Marketplace, Arnold Street Gallery and at the Castlemaine State Festival.

Why
Talented visual artists are based all over Central Victoria. Many artists would like opportunities to sell more work and grow their arts business practice. This project was developed in recognition that these artists are great contributors to this region, but can be overlooked when it comes to investment in arts, tourism and business development.
This project provided an opportunity for:
artists to engage with new audiences and markets in the region and beyond, and

the broader community to discover and engage with local art.
Find your art, find your artist
The exhibition showcased the work of over 130 artists from Central Victoria.

You can find a list of the artists involved here, including a link to buy their work directly.

Subscribe to our mailing list to stay in the loop with future
exhibitions and opportunities.